Press Release
16/05/2017
Q1 2017 Results - With a particularly strong start to 2017, Unilabs delivers the 11th consecutive quarter of organic EBITDA growth
Organic adjusted EBITDA a) : €33.5m, 

organic growth rate of 15% 

year-on-year

 at constant exchange rate (CER)

 

Organic revenues 

b)

: €181.1m, a 4.8% increase year-on-year (CER)

 

Free cash flow: €11m

 

Cost savings: €3.9m

 
________________________
a)     Excludes acquisitions made within the prior 12 months; adjusted for non-recurring, restructuring and acquisition costs. 
b)     Excludes acquisitions made within the prior 12 months.
Geneva, May 16th, 2017: European medical diagnostics leader Unilabs reports a strong start into to 2017, delivering the 11th consecutive quarter of EBITDA growth. Commenting on the results, Jos Lamers, Chief Executive Officer stated, "What makes this quarter particularly noteworthy is that we have generated strong growth across both our Lab and Imaging segments as well as our various regions. This is also our 11th consecutive quarter delivering a sustainable organic EBITDA growth."  ​
Financial highlights of Q1, 2017: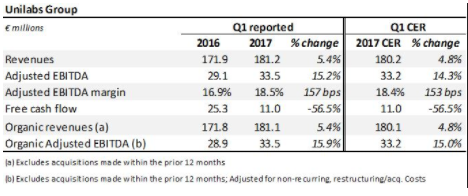 Organic revenue growth:
On a year-on-year basis, Unilabs has delivered adjusted organic growth of 4.8% (5.4% reported), driven mainly by our Nordic region.
The Laboratory segments in Sweden, Norway, United Kingdom, France and Spain have all generated very positive growth. As anticipated, this was slightly offset by lower volumes in Switzerland due to the roll-off of an exceptional in-sourcing decision taken in 2013.
The Imaging segment, after a transition year in 2016, has delivered particularly strong growth with a majority of contracts having been renewed last year and several new customer wins in Helse Vest (Norway) and Västerås (Sweden).      
EBITDA growth:
Unilabs continues to grow its adjusted organic EBITDA by 15.0% CER (15.9% reported) for Q1 2017. 
The substantial year-on-year increase of our adjusted EBITDA margin by 157 basis points continues to improve and is driven by constant organic revenue growth combined with strong cost savings generated from our continued Operational Excellence initiatives.
A favourable exchange rate impact was an additional contributing factor, mainly due to Swiss Franc and Norwegian Krone, though partially offset by the Swedish Krone and British Pound.
Free cash flow development:
Unilabs' Q1 2017 cash capital expenditures remain the same level as Q1 2016. However, the lower year-on-year free cash flow is driven by an expected increase in net working capital requirements as well as non-recurring items attributed to costs related to the refinancing and shareholder change (referred to as 'EXIT') at the headquarter level. 
Renewed Merger & Acquisitions activity:
The European medical diagnostics market remains highly fragmented. Consolidation is not just an opportunity but a strategic imperative in order to allow Unilabs to optimally offer our clients and patients reliable insight and innovative solutions at a competitive price for private and public healthcare payers.
In April 2017, Unilabs has announced the completion of the acquisition of Alpha Medical, a leading diagnostics company operating in the Czech Republic and Slovakia. 
 
"Over the past years, we have completed a number of small and mid-sized acquisitions while focussing on growing the company organically. The Alpha Medical deal signals a step change in that it represents the largest addition to the Unilabs family in the last 10 years. But more importantly, it allows us to expand our footprint to two new markets and establish a regional platform for further growth", Jos Lamers said.
Unilabs continues to pursue an ambitious pipeline of carefully selected acquisition opportunities with several possible conclusions in 2017 still. 
"With the strong support from our shareholder we are confidently driving an ambitious strategic growth agenda in 2017 and beyond. We will continue to focus on operational excellence but also prepare the future by investing in capabilities and expand our offering for the benefit of our customers. By growing our footprint, we are in a unique position to drive cross border synergies in a complex European market through a combination of reach, new technologies and medical excellence", Jos Lamers concluded.
- ENDS -
CONTACTS:
For further information or to arrange an interview with Unilabs, please contact Pauline Kropp at media@unilabs.com or +41 22 909 77 94 
NOTES TO EDITORS:
The financial transaction for the acquisition of Alpha Medical has been completed on 19/04/2017. Therefore, the impact of this transaction will be reflected in Unilabs' consolidated financial statements of Q2 2017.
About Unilabs 
With over 196 laboratories and 44 imaging units and a broad catalogue of more than 2,500 diagnostic tests, Unilabs is one of Europe's leading providers of clinical laboratory testing and medical diagnostic imaging services. Headquartered in Geneva, Switzerland the Unilabs Group serves private and public healthcare providers, local governments, pharmaceutical companies and the general public. The company employs more than 6,800 people worldwide, successfully operates laboratory and medical diagnostic imaging facilities in 14 countries, and generates annual revenues of €790m in 2016. Its network of facilities provides its customers with one of the broadest geographic footprints of any clinical laboratory and medical diagnostic services provider in Europe. 
Disclaimer:
References in this report to the "Group," the "company," "we," "our" or "us" refer to Unilabs Holding AB and its subsidiaries collectively unless the context requires otherwise.
This report contains various "forward looking statements" that reflect management's current view with respect to future events and anticipated financial and operational performance. Forward looking statements as a general matter are all statements other than statements as to historical fact or present facts or circumstances. The words "aim," "anticipate," "assume," "believe," "continue," "could," "estimate," "expect," "forecast," "guidance," "intend," "may," "plan," "potential," "predict," "projected," "risk," "should," "will" and similar expressions or the negatives of these expressions are intended to identify forward looking statements. Other forward looking statements can be identified in the context in which the statements are made. These forward looking statements may include, among other things, statements relating to: our future financial position; our strategy and outlook; our liquidity, capital resources and capital expenditure; our planned investments; acquisition opportunities in the markets in which we currently, or may in the future, operate; expectations as to future growth in demand for our products and services; demographic trends; general economic trends and other trends in our industry; the impact of regulations on us and our operations; the competitive environment in which we operate; the outcome of legal proceedings; extreme weather conditions in the markets where we operate; failure to comply with privacy laws; and failure to comply with environmental health and safety laws. Although we believe that the expectations reflected in such forward looking statements are reasonable, we can provide no assurances that such expectations will prove to be correct and such statements are not guarantees of future performance because they are based on numerous assumptions. Forward looking statements are based on information available at the time those statements are made and management's good faith belief as of that time with respect to future events and are subject to known and unknown risks and uncertainties that could cause actual performance or results to differ materially from those expressed in or suggested by the forward looking statements.  You should not place undue reliance on any forward looking statement. Any forward looking statement speaks only as at the date on which it is made and we undertake no obligation to update or revise any forward looking statements, whether as a result of new information, future events, changes in assumptions or otherwise. If the company does update one or more forward-looking statements, no inference should be drawn that the company will make additional updates with respect thereto or with respect to any other forward-looking statement.
In this presentation, the Company makes references to Adjusted EBITDA which is not defined under International Financial Reporting Standards, as issued by the International Accounting Standards Board and as adopted by the European Union ("IFRS"). The items excluded from Adjusted EBITDA are significant in assessing the Company's operating results and liquidity. Adjusted EBITDA has limitation as analytical tools and should not be considered in isolation from, or as a substitute for, analysis of the Company's results as reported under IFRS. Other companies in the Company's industry and in other industries may calculate Adjusted EBITDA differently from the way that the Company does, limiting their usefulness as comparative measures. We have prepared this document solely for informational purposes. You should not definitively rely upon it or use it to form the definitive basis for any decision, contract, commitment or action whatsoever, with respect to any proposed transaction or otherwise. You and your directors, officers, employees, agents and affiliates must hold this document and any oral information provided in connection with this document in strict confidence and may not communicate, reproduce, distribute or disclose it to any other person, or refer to it publicly, in whole or in part at any time except with our prior written consent. If you are not the intended recipient of this document, please delete and destroy all copies immediately. ​​